Anti-Bullying Ambassadors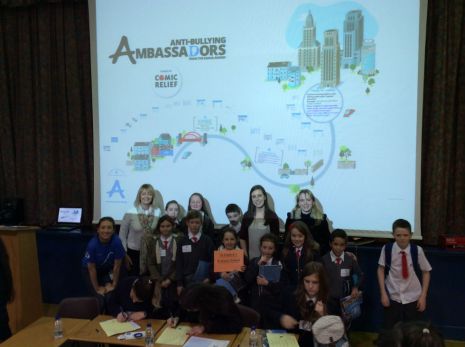 Our Anti-Bullying Ambassadors formed in September, 2016.
We received training Anti-Bullying Ambassador Training on 27th October, 2016. We have 17 members.
Head Boy- Callum Welsh (Year 7)
Head Girl- Cara McCarney (Year 7)
Aoife Caulfield (Year 7)
Finn Kelly (Year 6)
Ciaran McCarroll (Year 6)
Rosie McCabe (Year 6)
Aoife McKenna (Year 6)
Zuzanna Duzak (Year 6)
Eoin McEvoy (Year 5)
Ashton Beattie (Year 5)
Annie O'Hare (Year 5)
Ellen Bradley (Year 5)
Aodhan McCabe (Year 4)
Anna Donnelly (Year 4)
Berneen Gilroy (Year 4)
Mrs. McCallan (Principal/Year 7 Class Teacher)
Mrs. Barrett (Key Stage Two Class Teacher)
We held a Feel Good Friday event in school and we meet regularly to plan more exciting activities.
Watch this space!