WELCOME TO YEARS 3 AND 4!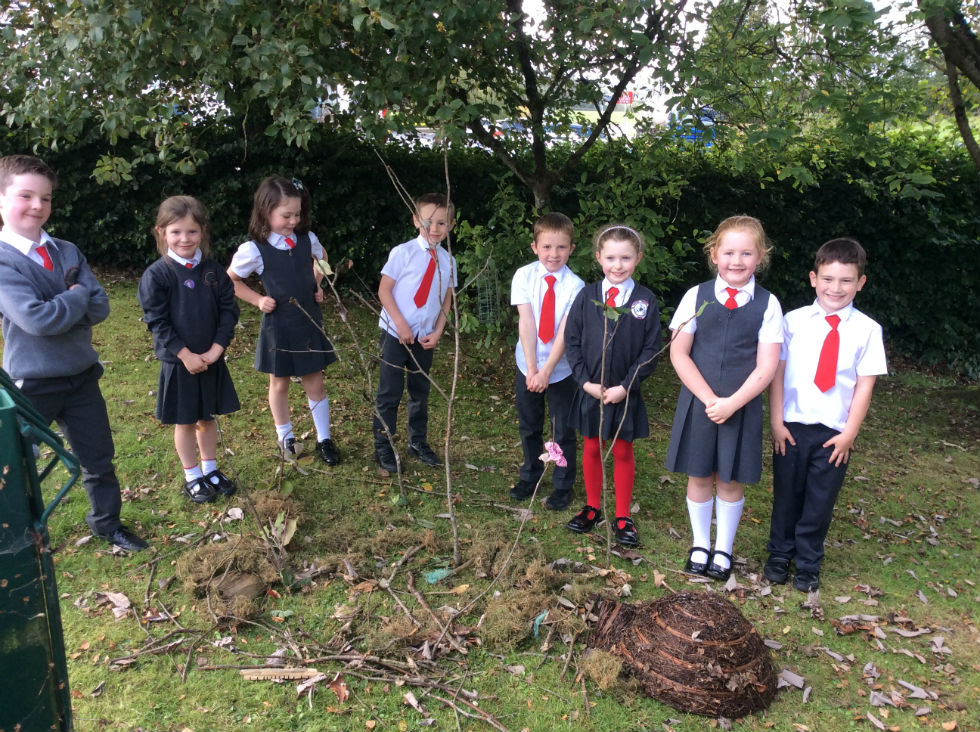 The Year 3 and 4 children enjoyed creating pieces of art with nature. Here we see a piece of artwork which the children named, 'Knockmany Forest after a storm'. Can you see why? :-)
We investigated pattern and colour in this natural art piece and the children had fun building a mini campfire and animal dens.
Getting ready for our Forest School activity on Tuesday, 29th September.
Volcanoes!
We are learning all about volcanoes in class! We did an experiment with baking soda, fairy liquid and vinegar to create our very own volcanic eruption!
Tie dye with blackberries!
We had lots of fun picking blackberries and tie dying with them.
Roger Rock turns into Simon Soil
We looked at how Roger Rock turns into Simon Soil and the different layers which soil is made up of.
Carroll Diagrams
During Numeracy time, the Year 3 and 4 children were working together to sort shapes into a Carroll Diagram.
The children enjoying a games of 'Duck, Duck, Goose' in the Autumn sunshine.
On Tuesday, 15th September, 2020, the Year 3 and 4 children had their first ever Forest School Lesson! Danielle from NIFSA came to our school to continue with some of the wonderful activities she had started last year. As Mrs. Barrett is becoming trained as a Forest School Leader, the Year 3 and 4 class have the opportunity to continue with their outdoor learning for many months to come!
Safety first! The children placed boundary flags around the Outdoor Classroom to ensure everyone stayed safe.
We even explored the nature trail...a little overgrown, but fun just the same! :-)
It is important to tidy up after ourselves and so the children learnt to, 'leave no trace' of what they had been doing so that they didn't disturb their natural surroundings.
The layers of the Earth
Mrs. Barrett went around the class showing the boys and girls the way in which the egg represents the parts of the Earth. The shell=the Crust, The White= the Mantle and The Yolk=the Core.
The layers of the Earth
Mrs. Barrett hoped she had chosen the correct egg- was it the hard boiled one? Phew, yes it was...
Golden Time
11.09.20- The Year 3 and 4 children had a fun play outside during Golden Time on Friday. Thank goodness the sun came out! We decided to take our lego, K'Nex and toy cars out with us, they needed some fresh air too!
Links...
St Patrick's P.S., is not responsible for the content of external Internet sites. We recommend adult supervision for all links to external sites. Thank you.
Literacy links Year 3/4
Numeracy Links Year 3/4
World Around Us Links Year 3 / 4
What have we been learning?
Upcoming School Events
Friday, 20th May 2022
Annual May Tests
Monday, 23rd May 2022
Annual May Tests
Year 6 and 7: British Red Cross - Youth First Aid
Tuesday, 24th May 2022
Annual May Tests
Wednesday, 25th May 2022
Annual May Tests
The Canavan Cup
Thursday, 26th May 2022
After - Schools Multi-Sports
Annual May Tests