Eco-Committee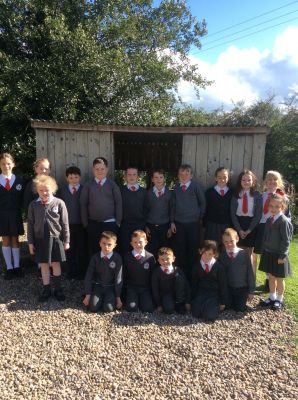 Our Eco-Committee has been up and running for a number of years now. We have been successful at achieving the Eco-Schools Silver Award and our goal now is to have achieved the Green Award by June 2022.
Congratulations to Mrs. Barrett who has become a Forest School Leader. We are now a registered Forest School. We have great plans for our outdoor environment, which we will be sharing with everyone soon. Check out our termly SPUD Newsletter to see what we have been up to.
Thank you to Conal who was in Year Seven last year and was appointed as a Nature Ranger. This role involved being responsible for looking after our Forest School equipment and helping other classes with their outdoor learning. Conal was a superb Nature Ranger. Well done, Conal!
Well done to Cormac in Year Six who has been appointed as our Nature Ranger for 2021 - 2022.
Mrs. McCallan (WAU Co-ordinator) and Miss. Devine (Assistant WAU Co-ordinator) are the members of staff responsible for the Eco-Committee.
We have secured the following funding so far this year.
The Edina Trust (£600) - Used our funding to buy science resources for our outdoor environment.
The Live Here, Love Here Pollinator Grant (£12 000) - Used to create our new Pollinator Garden
The Dalradian Community Fund (£1 000) - This money will be used to purchase a polytunnel.
The Ernest Cook Fund (£500) - This money will be used to buy bird and bat houses, insect hotels and hedgehog homes.
Eco-Committee meetings will take place fortnightly on a Thursday @ 9.30am in our outdoor classroom.
Watch this space fellow Eco warriors!